There will always be massive trucks on every road and highway, considered some of the most dangerous vehicles. Each year, it causes thousands of death in California. Victims of truck accidents often find themselves physically, emotionally, and financially burdened. If you or a loved one is a truck accident victim, consult an effective truck accident attorney LA to help protect your legal rights.
Most trucks belong to giant corporations backed by lucrative insurance companies. These firms might attempt to intimidate truck accident victims into accepting a low-ball offer. Don't accept it just yet. Instead, speak with a truck accident attorney because he knows how much your case is worth.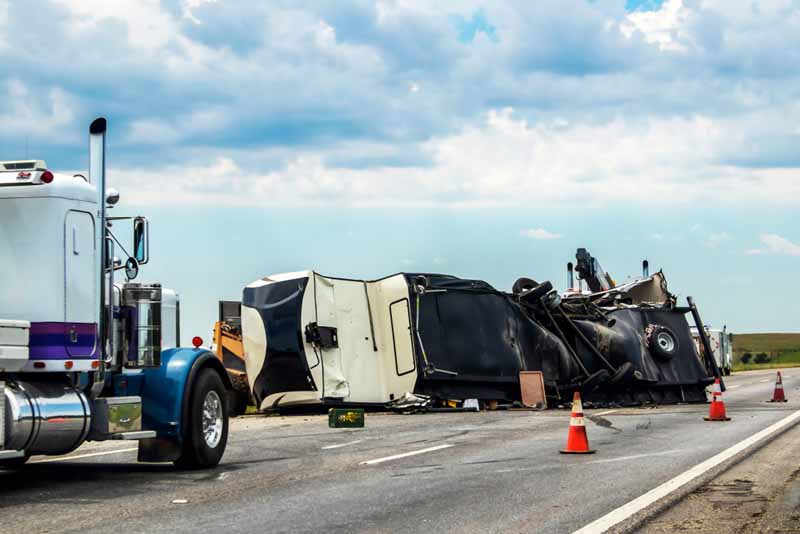 Most Common Causes of Truck Accidents in California
Several truck accidents are directly associated with the driver's failure to control the truck itself. Some of the reasons why truck accidents occur in California:
Distracted Driving
Anything that keeps your focus away from driving is a distraction. Some examples are talking on your phone, sending a message, or navigating a system. These diversions can put you, your passenger, and others on the road at risk. 
Three major types of distracted driving include visual, manual, and cognitive. These distractions can lead to a fatal truck accident because of its massive size.
Driving Under the Influence (DUI)
All states consider driving while under the influence or driving while intoxicated/impaired as criminal driving offenses. These violations include hazardous driving impairment due to alcohol, drugs, and other restricted substances.
Driver Fatigue
Fatigued driving is a considerable safety risk for drivers at any time for work. It's a type of physical and mental damage. Likewise, it's a contributing factor in several collisions. Exhaustion hampers decision-making as well as reaction time. Moreover, it adversely affects judgment and sight, leading to loss of focus and putting all people on the road at risk. Haggard truck drivers involved in a road accident, including their employers or companies, are possibly held legally liable. 
Insufficient Truck Driver Training and Experience
Insufficient training and experience are other factors why truck accidents occur in California. Inexperienced drivers don't know what to do during the accident or to prevent the accident. The same goes for those who lack proper training for driving such an enormous vehicle. 
Irresponsible and Cranky Driving
For most truck drivers, time is gold, and they won't waste any minute. They need to arrive at their destination on or before time. The thing is, they are not the only ones using the road. Besides, trucks need to follow the speed that traffic laws require. 
Cargo Loading Inaccuracy and Trailer Defects
Overloading and improper loading of cargoes can make the truck fall to its side when it makes a turn on a curve due to the heaviness of the load. Also, improperly or inaccurately loading the cargoes will cause them to fall off and hit vehicles following the truck. This will result in various road accidents hurting people on the road, including pedestrians, motorists, cyclists, and bystanders. 
Truck Defects and Maintenance problems 
There are instances when the cause of the accident is the defect of the truck itself. There could be a faulty part that went loose or malfunctioned. In this case, a third party, such as the manufacturer, becomes liable for a defective product. 
Poor maintenance is another reason for truck accidents. When the servicing company fails to perform proper maintenance, it can also be held liable. Contacting a skilled Los Angeles truck accident attorney LA can help maximize your compensation, especially when there's a third party involved.
Liability in a California Truck Accident 
Truck accidents in California are similar to other motor vehicle collisions where liability is according to the theory of negligence. Negligence occurs when an individual or entity fails to be careful like a sensible person would do in a similar circumstance.
In California, a negligent driver is financially responsible for any injuries or damages a victim may endure. For a victim to recover damages, you need to prove the elements under the negligence theory. These are:
Duty

Breach

Causation

Damages
Talk to the Experts, Call the LA Injury Group Today
Truck accidents can cause tremendous damages, injuries, or even casualties because of the vehicle's bulky size. If you or a loved one suffers injury or loss due to a truck accident, never hesitate to get in touch with the LA Injury Group. 
Our experienced truck accident attorney LA will fight for your rights and ensure that you get the maximum compensation. We prioritize your immediate recovery that's why we work on a contingency fee basis. We'll only get a payment once we secure you a settlement. You don't have to pay us if we don't win, but it doesn't mean that we won't work hard.
LA Injury Group offers the most exhaustive help, especially when there's a third party involved. We don't let our clients down and do everything in our power to establish a strong case and make it successful. Call us today at (818) 240-1800, and let's talk about your case at no cost.