A truck or big rig accident is different than a regular auto accident. Standard pickup trucks are still considered passenger vehicles. In this case when we say trucks we are talking about commercial trucks and vehicles that are typically built to haul large payloads. This could include 18-wheel semi-truck and trailer combos, large commercial vans, and large tow trucks.
No Fees, Unless We Win
Get your free consultation and see how much your case is worth.
Due to the large size of commercial trucks, accidents involving them can often result in major property damage and serious injuries. If you have been involved in an accident that involves a commercial truck there are many things you must take into consideration.
Liability – Commercial trucks must not only follow all of the rules of the road required by any vehicle, but they also must comply with a very specific set of federal regulations. In many cases, the truck driver's failure to comply with these regulations causes the truck accident.
Driver State of Mind – Truck drivers can work long hours. This can sometimes mean the driver's judgment and reactions are slowed due to fatigue. Any driver not taking the needed breaks over the course of a long haul can be dangerous on the road.
Any operator who is driving under the influence of alcohol or any drugs, or is in the possession of them at the time of the truck accident can be considered negligent.
Vehicle Condition – All commercial vehicles must be regularly checked to make certain that all of their critical parts and accessories are working properly. If the vehicle is not within compliance of the required safety regulations that is negligence on the driver and owner's part.
Cargo – Commercial trucks are designed to haul a specific amount of cargo. If the truck is overloaded or the cargo is not properly secured it could cause an accident.
Speed – Due to the sheer size of large commercial trucks, speed is a very important factor in their day-to-day operation. If a driver is pushing his/her rig at an unsafe speed in order to make a deadline it could cause an accident.
Inexperience – Driving a large commercial vehicle is not easy. If a company has an inexperienced driver behind the wheel of a vehicle that they are not skilled enough to handle it could cause an accident.
Dangerous Weather – Inclement weather can make driving any vehicle a real challenge. When you are at the wheel of a large truck you have much less room for error. Weather can cause the truck to become difficult to handle which could bring about an accident.
The complications surrounding a large truck accident can be many and difficult to navigate. For starters there can be multiple people that may be held liable for a truck accident including:
The driver
The company that owns the truck
Manufacturers or distributors of trucking products
Lessors
Shippers and/or loader of cargo
A Thorough Investigation is Critical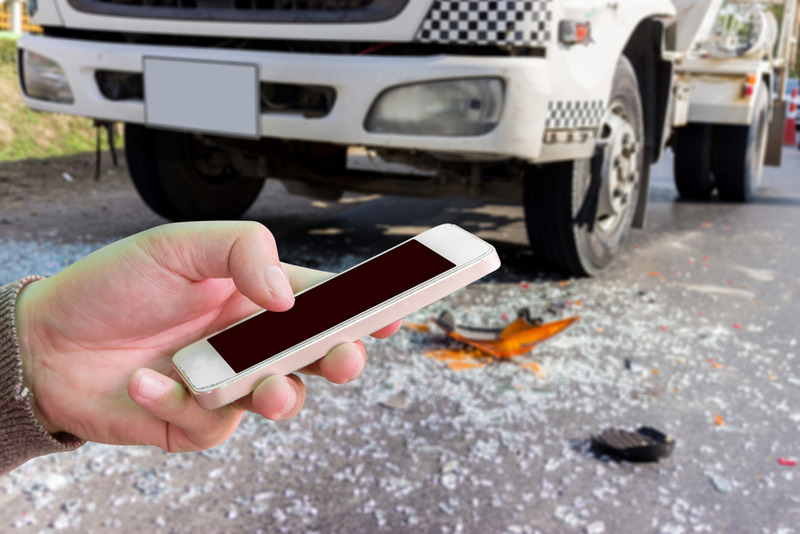 Determining the cause of the truck accident may require a thorough investigation and could become a very complex matter involving multiple experts. Even the most simple of accidents involving a truck can cause serious damage which can lead to the need for a more detailed investigation.
The most common forms of accident involving large commercial trucks are:
Blind spots
Rollover accidents
Rear-end accidents
Sideswipes
Call (818) 240-1800 for a free consultation
When you combine the type of accident with the cause of the accident and you bring into question the liability of the action, your case can quickly become something that is best handled by an expert who is well-versed in dealing with these types of accidents.
If you have been involved in truck or big rig accident please contact LA Injury Group, Inc. here on our contact form or call us toll free at 1-888-500-1006.