Claims You Can Sue For Stress Related Injuries: Emotional distress happens when a person struggles with mental anguish or pain and suffering after a traumatic event. Find out if you can sue for emotional suffering in California and what a personal injury lawyer can do for you.
Emotional distress occurs when a victim of a traumatic event struggles with issues of mental anguish and suffering. Traumatic accidents are, in most instances, damaging both physically and mentally. When the injuries are physical, detecting and treating them is more straightforward. Moreover, the wounds are physical and can be treated easily. On the other hand, emotional suffering injuries are internal. They may not manifest easily or as quickly as physical injuries.
As the desire is always to get compensation from the at-fault party, time and again, traumatic events victims have filed personal injury claims to pursue compensation. This happens when a victim suffers both physical and emotional suffering. It follows from this that you can sue for emotional suffering.
Filing personal injury claims is, in most instances, complex and time-consuming. The reason for these complexities is that a party must collect sufficient evidence before filing a personal injury claim. Because of these reasons, you are highly encouraged to hire an experienced personal injury lawyer to help you gather evidence and file an emotional suffering claim.
This blog aims to answer whether one can sue for emotional distress in California. The blog shall conclusively look into the matter. It shall address any issue surrounding the preparation and filing of emotional suffering claims in California.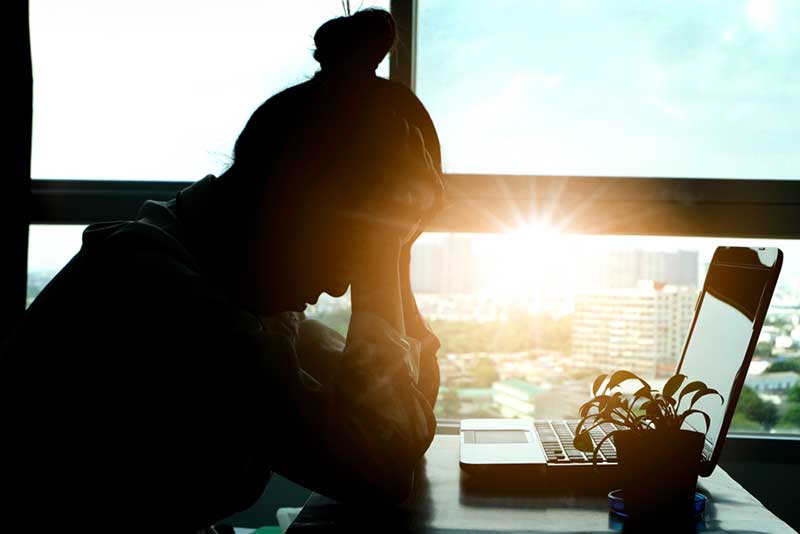 Can You Sue for Emotional Distress in California?
While it may be difficult to prove emotional suffering, the law does not limit you from filing an emotional suffering claim in California. As the emotional distress situations following traumatic events affect the victims gravely, you should file an emotional suffering claim against the other party.
It follows from the above that you should reach out to a personal injury lawyer in California who shall advise you on the process of filing the claim, the timelines to be adhered to, the evidence required, and any other thing that may be needed when filing the personal injury claim.
What Is Emotional Distress?
Mental anguish is also known as emotional distress. It is a legal term used to describe the psychological injuries experienced by victims of traumatic events, including car crashes, truck crashes, and any other form of traumatic event. Suppose a victim of a traumatic event experiences emotional suffering due to traumatic events. In that case, they can file emotional suffering claims against the at-fault party.
For your personal injury claim to be successful, the law requires you to provide sufficient evidence proving that the negligent party was responsible for the injuries suffered because they were negligent. To prove this, you must assemble all the necessary evidence supporting that the other party was negligent and liable to compensate you for the injuries suffered. It follows that the victim and their loved ones who witness the events of emotional suffering are free to file a personal injury claim on their behalf or on behalf of their loved ones to receive compensation from the at-fault party.
As indicated above, proving mental anguish is not as straightforward as proving a physical injury. For this reason, a party claiming emotional suffering must ensure that they file sufficient evidence that indicates that, indeed, they are going through periods of emotional suffering and that the episodes of emotional suffering began after they were involved in the traumatic event, that the traumatic event was as a result of another person's negligence and that the mental anguish episodes have affected their socialization and economic aspects of life. Because of this, you should engage the services of an experienced personal injury attorney as soon as you start experiencing Mental anguish episodes.
Furthermore, mental anguish episodes affect various victims in different but unique ways. This means that there may be no universal expression of mental anguish and that each victim of a traumatic event has unique ways of experiencing emotional pain. It is because of this that proving mental anguish can be both difficult and time-consuming. You should therefore seek the help of an experienced personal injury attorney as soon as you are a victim of a traumatic event.
The following are examples of how emotional distress episodes can manifest in victims of traumatic events:
The victim may feel humiliated
The victim may have difficulties in finding and maintaining quality sleep
The victim may go through episodes of intense depression
The victim may start having suicidal thoughts
The victim may begin experiencing episodes of stress and anxiety
While the above may not be conclusive as to how emotional distress can manifest, they are the most common forms of emotional distress. Suppose the traumatic event victim does not go through treatment for emotional pain. In that case, their quality of life will be severely affected.
Can I Sue Someone for Emotional Distress?
Yes, you can sue someone for emotional distress.
You shall receive compensation for your pain and suffering throughout the injury. Specific physical injuries can bring about substantial emotional distress because of the gravity of the accident and the harrowing fact that someone shall stay with them for a long time. Examples of injuries that can bring about substantial emotional distress include damages that result in one losing their limbs or other parts of their body. As the losses shall stay with the accident victim over a long period, one should pursue adequate compensation.
Victims of sexual assault and slander can also sue Defendants for emotional distress. This is because victims of sexual assault and defamation shall experience the trauma of the harm for an extended period.
When suing someone for emotional distress, you must engage expert witnesses so that they can give testimony in support of the fact that you are experiencing grave emotional pain from the event. Based on the expert opinion, the trial court and the jury can fully understand the suffering you are going through and compensate you accordingly.
Proving Emotional Distress in A Personal Injury Lawsuit
Proving emotional distress can be difficult because there are no physical injuries. To confirm that you went through mental anguish, you must produce adequate documentation to prove the same. The documentation should clearly show that you suffered from the traumatic event.
If you suffered depression post the accident, you must produce medical records indicating that you are going through depression. The report should include every possible information about your situation including whether you have post traumatic stress disorder. You may also request the medical doctors who are treating you for depression to testify on the fact and in support of your emotional distress lawsuit. Without the evidence from the medical report and the expert testimony, it will be difficult to prove the emotional distress claim. Therefore, you must engage the services of an experienced personal injury lawyer so that they can help you get documents in support of your case and procure the services of an expert witness.
How To Show Negligence in An Emotional Distress Claim
To prove negligence in an emotional distress claim, you must produce evidence in support of the fact that there was a negligent infliction of emotional distress (NIED). NIED is also known as the impact rule. Under the impact rule, one shows that there was physical contact during the accident. On the other hand, you may also show that there was intentional infliction of emotional distress (IIED) if there was no physical contact. Still, there was an intention for the same.
The above means that even if there was no physical infliction of harm, you are still at liberty to sue for psychological trauma as long as you are within the zone of danger.
The Zone of Danger principle
The above principle refers to where someone could be in possible physical danger from another person's negligence. Because of such a principle, someone within the zone of danger may elect to sue for emotional distress, even though they did not suffer a physical injury during the accident.
Suppose you were a passenger in a vehicle involved in an accident; you may pursue an emotional distress claim if you did not suffer any injury. To succeed, you must adequately demonstrate that you were in the danger zone and were apprehensive of harm during the entire ordeal.
How Long Do I Have to File an Emotional Distress Claim in California?
The victims of traumatic events who would want to file claims for emotional distress have two years within which they must file their claim. Should they fail to file their claim within this period, they shall be allowed to file the same.
The period of two years includes the time for putting together evidence, attending to treatment, interviewing witnesses, collecting accident reports, and doing any other thing surrounding filing the personal injury claim. You shall, therefore, not use the excuse that you were collecting evidence or any of the above tasks when filing a personal injury claim for emotional distress, as the same shall be unsuccessful.
Because of the timelines' intensity and the fact that collecting evidence can be long and tedious, you should begin filing the claim as soon as possible. By starting early, you can do all the tasks required and file the claim within time. Suppose you are overwhelmed by the various functions. In that case, you should engage the help of an experienced personal injury lawyer so that they can help you through the process.
Types Of Emotional Distress Lawsuits
The type of emotional distress you may file shall largely depend on the circumstances of your case. The California courts shall decide whether the victim of an emotionally distressing situation was a victim of negligent infliction of harm or intentional infliction of emotional injury.
There are two main types of emotional distress lawsuits. Which type of emotional distress claim you will file depends on the details of the incident you experienced.
Proving negligence in emotional distress claims
To prove negligence, one must produce evidence in support of a duty of care, a breach of duty of care, there being a relationship between the harm suffered and the breached duty of care and that there are damages as a result of the negligence. It is, therefore, necessary that you have sufficient facts to support your compensation claim. Without evidence, you may be unable to get compensation.
Examples of instances that can result in one filing emotional distress claims based on negligence include the following:
Wrongful death claims that emanate from driving while intoxicated
Medical malpractice claims
Auto accidents personal injury cases
Examples of instances that can result in emotional distress claims for models where there was intentional infliction of emotional distress include the following:
Harassing employees in the workplace
Discriminating an employee claim
Claims of sexual assault
How A California Personal Injury Lawyer Can Help
An experienced emotional distress attorney shall assist you in collecting and putting together all the evidence required to support the claim for emotional distress damages. The evidence to be collected shall include witness statements of those who witnessed the traumatic event and those who have seen you go through mental suffering and severe emotional distress.
The lawyers shall also help you get expert witnesses who shall testify in support of your claim. The team of experts whose opinion shall help form the basis of support for your claim shall include a group of psychologists with sufficient experience to give a conclusive opinion.
At LA Injury Group, we assist our victims in dealing with insurance companies who shall seek a settlement. As negotiations with insurance companies are tedious, complicated, and time-consuming, our lawyers shall take this burden from your shoulders and adequately deal with the insurance companies. Depending on the outcome of the negotiations, we shall advise you on the best way forward.
At LA Injury Group, we have helped victims of traumatic events in California attain compensation for their emotional distress.
We are available seven days a week and 24 hours a day to address your potential claim at any given time. We shall give you a free case evaluation in which we shall address all the concerns that you may have about the emotional distress claim. During the free consultations, we shall advise you on the evidence you require to support your case and how to get them. We are ready to take up your case on a no-win, no- fees basis, meaning we shall have to win the case before you pay us a single penny.
Contact us today so that we can start the process of helping you get the compensation that you deserve.