As pedestrians, we walk on crosswalks to ensure that we're safe from oncoming vehicles and avoid getting hit. However, pedestrian accidents still occur because of other people's negligence. Additionally, unlike other accidents, victims of pedestrian accidents wear no gear to protect them. So when misfortune happens, pedestrians are always the loser because they are defenseless. When you suffer injuries from a pedestrian accident, it's important to seek immediate medical attention. Don't forget to speak with the best trial Los Angeles pedestrian accident lawyer to protect your rights. Contact the LA Injury Group at (818) 240-1800 and schedule a free evaluation of your case.
What Do You Need to Do When You're Hit as a Pedestrian?
It's hard to think of what's the best thing to do after getting hit by an oncoming vehicle. After those injuries and pain, it's confusing to who to turn to for help. Our best trial Los Angeles pedestrian accident lawyers have the knowledge and skills to defend you from the insurance company if they offer you an unjust settlement or even deny your claim.
If a vehicle hit you while walking on the crossroad, you need to do the following if possible. It will help you make a stronger case against the person who caused you harm and injury.
Contact the authorities and make sure that there will be an accident report created
Take pictures of your injuries, property damage (phone, eyeglasses, or watch), place of accident, and road conditions, including the vehicle that hit you
Get the information of possible eyewitnesses or anyone who saw the incident
Take photos of the liable party's (at-fault driver) driver's license, car license plate, and insurance card
Seek immediate medical care and tell the attending medical staff about your affected body part or parts  
Don't talk with the defendant's insurance company until you speak with a pedestrian accident lawyer
Avoid posting yourself on any social media, especially about your accident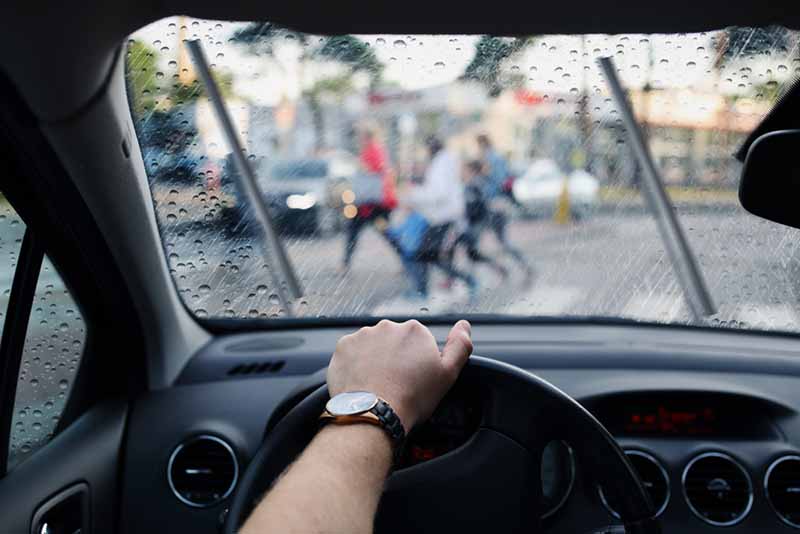 Los Angeles Pedestrian Accident Lawyer: Why Do Pedestrian Accidents Happen in California?
Several factors contribute to the occurrence of pedestrian accidents in California and most of it all boils down to negligence. This includes:
Speeding. Drivers drive more than the speed limit imposed by the state law. This kind of behavior usually results in a tragic accident, especially a hit-and-run.
Distracted Driving. There are many reasons why drivers become distracted while driving. It includes texting, eating, drinking, talking to passengers, or navigating an app.
Alcohol and Substance Abuse. A drunk driver behind the wheel can cause a devastating pedestrian accident, which can lead to serious injuries or even the death of the victim.
Reckless Driving. This is the kind of behavior of a driver who doesn't care about people and other drivers on the road. He doesn't follow traffic rules and does not think about the safety of other people.
Failure to Signal Before Turning. Another cause of pedestrian accidents in California is the driver's failure to signal when turning. If this happens, pedestrians crossing the road might walk right into the vehicle's way.
Visibility and Time of Day. Most pedestrian accidents happen during the night maybe because of poor visibility or the increased number of drunk drivers. The dark clothing of pedestrians can be also a factor that drivers weren't able to see them immediately and clearly.
Not Respecting Pedestrians' Right-of-Way. If drivers fail to respect pedestrians' right-of-way when crossing an intersection, many pedestrian accidents will happen and many will suffer injuries or might die.
Most Common Type of Injuries that Victims Suffer in a Pedestrian Accident
Pedestrians don't wear any necessary gear while crossing the intersection, unlike motorcycle riders or cyclists, making them prone to serious injuries when an accident happens. The most common type of injuries that pedestrian accident victims sustain include:
Abrasions, cuts, and lacerations of the skin
Torn and sprained ligaments when hit by the vehicle or bumped into something hard
Brain injury can cause disability due to failure in motor function or death
Spinal cord injury also can cause temporary or permanent impairment
Fractured bones on arms, legs, ribs, pelvis, hips, or skull
Scalp lacerations and contusions
Internal organ injuries may get punctured or bruised because of the impact
With all the abovementioned injuries, you can imagine the cost of medical care you'll need to recover and regain your health. Our best trial Los Angeles pedestrian accident lawyer can maximize your compensation and help you receive a fair settlement. If a need arises, we can represent you in court.
Resolving Your Case with the Help of Our Best Trial Los Angeles Lawyer
Filing a claim is a complicated matter and knowledge of the law is necessary so you'll how to protect your rights and how the law works. Working with one of our lawyers:
Can help identify fault and accountability
Have the tools and resources to specify monetary damages
Will negotiate with the insurance company on your behalf
Will advise you on the next right thing to do
Will help you gather documents and other pieces of evidence needed
Expect that the insurance company will challenge your claim and will do everything to deny it so they won't have to pay you even a single cent. But when you're collaborating with one of the pedestrian accident lawyers from the LA Injury Group, you're confident that your case is in good hands. You can be sure that we can help you file for a claim earlier than two years from the date of the accident based on California's Statute of Limitations.
Get the Most Comprehensive Help from the LA Injury Group
The LA Injury Group only works with the most competent and effective pedestrian accident lawyers to help provide the widest coverage of legal representation to clients. We work harder and more efficiently to ensure that you'll get the compensation you deserve.
We are just a phone call away to help with your case. Dial (818) 240-1800 and book a free consultation. We work on a contingency fee basis, so there's no fee unless we win a settlement or verdict for you.