When an accident occurs between a vehicle driver and a bicyclist, the obvious victim would be the bicyclist. He or she has nothing to protect him or her from the impact of the crash except for the helmet. The vehicle driver, on the other hand, is well-protected by a seat belt, an airbag, and the car itself. Los Angeles is a great place for biking, but also prone to bicycle accidents. In case you or a family member has been hit by any type of vehicle, speak with an expert bicycle accident attorney in Los Angeles to protect your rights and build a strong case. Call us at (818) 240-1800 for a FREE case evaluation from LA Injury Group.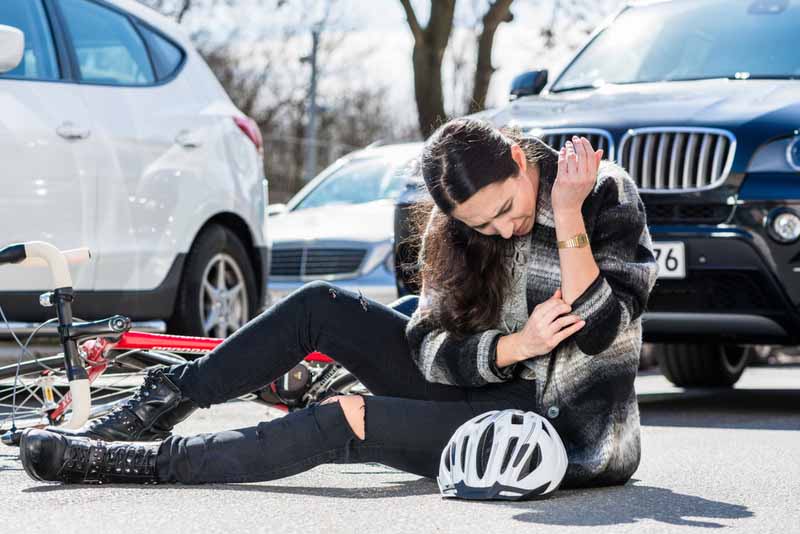 What Should You Do After a Bicycle Accident?
As an injured bicyclist, don't negotiate with the driver regardless if you're in the right way or not. There's no sense in identifying who's in the right or wrong way. Rather, get off the road so you can get a picture of your deformed bike and your injuries while waiting for the police or ambulance to arrive.
When the authorities arrive, get a detailed police report and make sure of the incident's documentation, not forgetting the identity of any possible witnesses.
Try to obtain the driver's insurance information and the passenger's name he may be with. Contact an expert bicycle accident attorney in Los Angeles first, rather than your insurance company.
Don't forget to seek medical treatment because you will also need medical reports once you file a claim against the liable party as proof of your injury.
Bicycle Accident Attorney in Los Angeles: Building a Strong Case Against the Defendant 
To get a claim, you need a strong case against the defendant, and providing evidence is the key. That's why as mentioned earlier, you need to keep records of the incident and your injuries and losses. Those proofs are not enough and must be executed with the help of a skilled bicycle accident lawyer in Los Angeles. 
Below are the things crucial to ensuring the building of a strong case against the defendant:
Photos or videos of your wrecked bicycle and injuries from the accident site including any involved vehicles
A record of all incurred medical bills, including the documentation of medical treatment
Don't fix or replace your bike yet, instead, find out the amount of repair cost, or the amount of a new or similar one
Have the driver's details and witnesses during the accident
Show proof of lost wages because you missed work to recover your health and energy and allow time to heal your wounds
Severe injuries might need some assistance from assistive devices and physical therapy which also require proof
Demonstrate evidence of the emotional affliction the accident has caused you
Factors Considered For Compensation in a Bicycle Accident Case
Resolving the compensation for a bicycle accident is a complicated procedure. With the help of a knowledgeable bicycle accident lawyer in Los Angeles, you will know what type of damages you can recover which not only refers to financial but also considers the emotional aspect.
Medical Expenses
Your injury needs immediate treatment and full recovery so you can get back to your work and your usual routine. You'll incur expensive medical care, prescription drugs, doctor visits, or hospitalization. You must be compensated for these expenses and other overheads related to your medical care and rehabilitation.
Lost Wages
When your injuries are severe, you can't get back to work, which also means you cannot earn a living because you need to stay in the hospital or at home to heal. The compensation you'll receive will replace the lost wages because you'll need some time off from work to ensure that you'll have a full recovery from your wounds. This also encompasses future earnings.
Pain and Suffering
Your wounds may heal, but you have suffered so much discomfort such as pain and emotional trauma. You might no longer want to ride a bike for fear you'll get into an accident again.
Emotional Affliction
Included in the compensation that you must receive is the emotional affliction. The tragic experience of a bicycle accident can affect your life negatively.
Loss of Enjoyment
You lose enjoyment in life following a catastrophic accident. This usually happens when you lost a part of your body due to amputation.
Loss of Consortium
This refers to particular services you might have rendered to your spouse or family members if not for the accident. It includes affection, care, assistance, and guidance to name a few.
Damage to Property
Any defacement or destruction to your bike needs compensation to get it repaired or replaced if necessary. You might need to replace some parts such as new wheels or buy a new one as a replacement, especially if you're using it for work or when going to school.
Common Injuries in a Bicycle Accident in Los Angeles
A bicyclist can suffer not only one external but also internal multiple injuries from an accident. These devastating injuries may include:
Spinal cord injuries
Lacerations
Traumatic brain injuries
Lower extremity injuries
Scarring and disfigurement
Road rash
Skull fractures
Broken bones
Internal injuries
Bicycle crashes occur for several reasons, from distracted driving to speeding to reckless driving. Whatever the reasons, it all stems from negligence. If you or a loved one suffer injuries from an accident while riding your bike, get in touch with our professional bicycle accident legal representative in Los Angeles so we can protect your rights. 
Consult LA Injury Group and Get the Compensation You Deserve
Filing a case or claim against the defendant takes a lot of time, effort, patience, and knowledge of the law. To save you the trouble and ensure that you'll have a better chance of a successful case is to hire a proficient bicycle accident legal representative in Los Angeles to help with your case.
Our compassionate lawyers at LA Injury Group will be glad to hear about your case. Work with us so we can help you seek justice and the compensation you deserve. Contact our office today at (818) 240-1800 and schedule a FREE evaluation of your case.