Getting hit by a vehicle while riding a bicycle in Los Angeles is no longer new. In fact, nearly 11,000 bicyclists suffer injuries, and almost 160 bicyclists die throughout California. Almost a quarter of these injuries and fatalities occur in Los Angeles.
Generally, bicyclists die at a yearly rate of roughly 2.6 per million residents in the United States. California, on the other hand, has a rate of around 3.9 per million residents. This makes the state's rate close to 33.3% higher than the nation's average.
When you're hit by a car, truck, bus, or any other vehicle, you always lose because you have nothing to protect yourself from the impact, unlike those drivers who are inside their vehicles. You only have your helmet while the driver has his car to protect him from the collision.
The crash can cause you fatal injuries while the driver remains unharmed and uninjured. In cases like this, contact the LA Injury Group to help ensure that you protect your rights and to know what are your options. Call (818) 240-1800 and speak with one of our excellent bicycle accident lawyers to schedule a FREE evaluation of your case.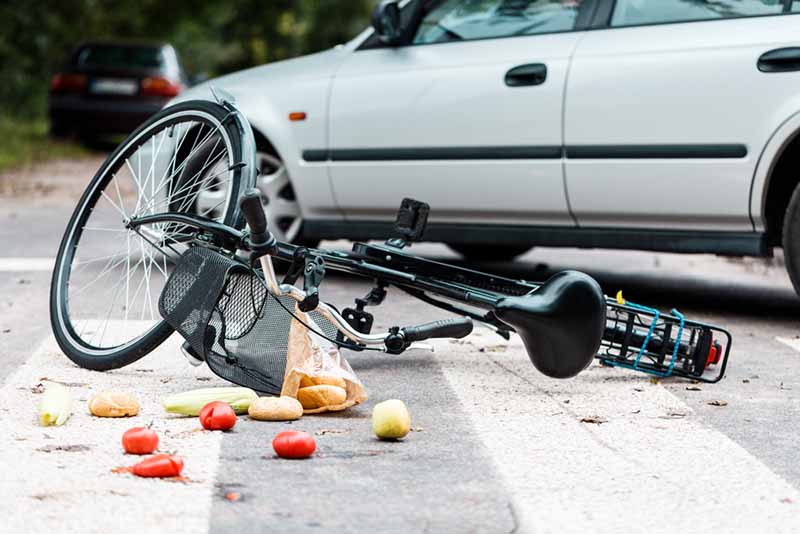 Excellent Bicycle Accident Lawyers: Los Angeles Bicycle Accident Statistics
Bicycle accidents occur when one or more parties fail to abide by traffic laws or act wrongfully. In 2021, 543 bicyclists sustained injuries and perished in Los Angeles traffic accidents. The overall number of fatal and injury bicycle accidents in that same year was 1,780.
Reasons Why Bicycle Crashes Happen
Bicycle crashes happen in Los Angeles for several reasons. It usually occurs because of the negligence of one party or both. It's best to work with one of LA Injury Group's successful trial bicycle accident legal practitioner to identify the liable parties and make them pay for their negligence. Causes of bicycle accidents include:
Speeding
This is a significant factor in traffic injuries and fatalities. Excessive speeding decreases the amount of time the driver needs to respond in a dangerous situation to prevent crashing or hitting other vehicles.
Distracted Driving
A driver who is too busy texting, talking on a phone or passenger, navigating an app, or eating might find it too late to stop or avoid colliding with a bicyclist. Distraction is anything that takes the driver's attention away from the road.
Impaired Driving
It's difficult to drive when you're drunk or intoxicated with alcohol or illegal drugs. You'll have a tough time paying attention to the road and not hitting other vehicles on the road, especially bicyclists.
Encounters at Intersections
The bicyclist halted at an intersection, however, the driver wasn't, resulting in a rear-end crash. This usually happens when the driver drives too fast or is following a vehicle too closely and it's already too late before he can step on the brake.
Collisions with Doors
Drivers or even passengers might open the door without checking if there's a bicycle coming from behind. The door will easily slam into the unsuspecting bicyclist and throw him right into the oncoming traffic where he could suffer catastrophic injuries when hit by the passing vehicles.
Right-Hand Turn Collisions
This often happens in the intersection when the car makes a right-hand turn and crosses the bike lane, colliding with the bicyclist who is going straight. There are also times when the driver fails to turn the signal light to alert the bicyclist.
Left-Turn Collisions
A car already in the intersection made a left-hand turn colliding with a bicyclist that was approaching the intersection. The inattentive driver can slam into or pull directly in front of the bicyclist and smash into the side of the vehicle.
Other reasons why bicycle crashes happen include poor visibility, unsafe road conditions, and poorly-designed crossing locations.
Most Common Bicycle Accident Injuries in Los Angeles
More often, a bicycle accident results in extreme and unfortunate injuries, ranging from spinal cord injury (SCI) to traumatic brain injury (TBI) and everything in between. If you're a bicyclist without strong protection, you're vulnerable to the receive all the impact of the accident. It's also possible that you'll suffer one or more of the following injuries:
Road rash
Lacerations
Skull fractures
Scarring and disfigurement
Lower extremity injuries
Broken bones
Spinal cord injuries
Internal injuries
Traumatic brain injuries
Permanent and destructive injuries are generally common in serious cyclist accidents. Bicyclists who survived the crash usually live with the aftermath of their accidents for as long as they live. Common lifetime injuries include paralysis, brain injury, and physical scars to name a few. Others may likewise suffer psychologically and emotionally from the trauma of the accident.
Our experienced bicycle accident attorneys at LA Injury Group can fight for your maximum compensation to help cover expenses and losses from the accident caused by someone else's negligence.    
Damages You Can Recover from a Bicycle Accident
When you suffer injuries from a bicycle accident because of another person's negligence, it's just right that you seek damages, especially if the crash wasn't your fault. It's important to work with one of the knowledgeable and skilled bicycle accident attorneys at LA Injury Group to identify the at-fault party or parties. These damages that you can recover are:
Economic Damages
Also called specific damages, these are quantifiable amounts and refer to your past and future medical expenses, lost salaries, lost earning potential, essential home or car modifications, repair or replacement of your bicycle, and home services such as child care.
Non-Economic Damages
Also called general damages, it refers to your physical pain and suffering, emotional distress, and physical pain and suffering among others.
Statute of Limitations for Filing a Personal Injury Claim
Generally, filing a personal injury claim in Los Angeles is within two years. However, there are several factors that can extend the period the time you have to file a claim. When a government entity caused your injury, you only have 180 days from the date of the accident to file a personal injury claim. 
Get help from our credible bicycle accident lawyer and ensure that you'll be filing your claim within the given period. Filing it beyond the due date loses your right to obtain a claim.
LA Injury Group Can Help with Your Case
At LA Injury Group, we understand the hardships that an injured victim and his family are going through — physically, emotionally, and financially. We're here to help you recover damages and ensure that you'll get the compensation you deserve. We work on a contingency fee basis. Call us today at (818) 240-1800 and book a FREE case evaluation. We'd like to hear your story.