A slip and fall accident can happen anytime and anywhere, the least you expect it. If you or a loved one get hurt and suffer an injury, you may be eligible to get compensation for the damages. You can explore your options of getting a claim by talking to the right California slip and fall accident lawyer to handle your case.
Contact LA Injury Group to help protect your rights and maximize your compensation. Call (818) 240-1800 and schedule a free consultation.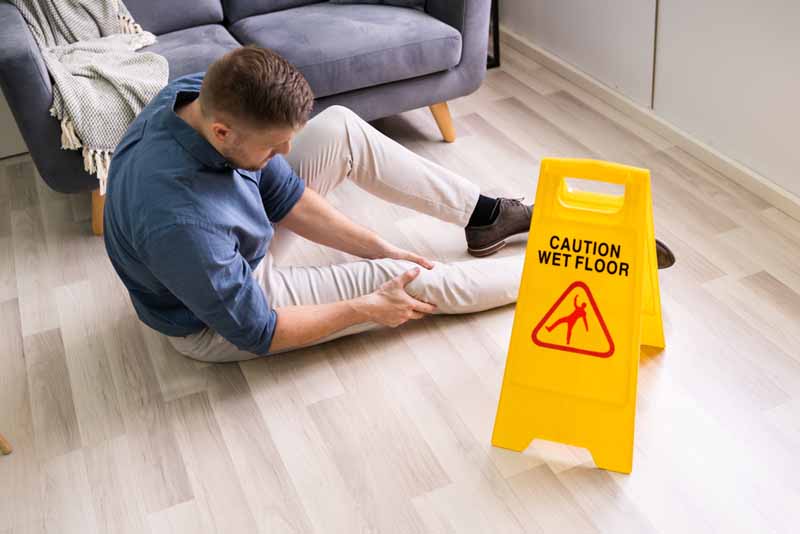 Establishing Slip & Fall Liability
Slip and fall accident is a legal term, describing an injury that happens when a person falls on the property or premises of another person. For instance, you might slip and fall while buying in the frozen goods section of a grocery where the floor is wet.
You may have the justification to file a lawsuit for a premises liability claim. Based on the Centers for Disease Control and Prevention (CDC), 1:5 is the ratio of falls that lead to serious injuries. However, it's worth noting that there are instances when the accident occurred because of another's fault or yours.
California Slip and Fall Lawyer: Comparative Negligence in California
You must expect that when filing a claim, insurance companies are always ready for an argument to dispute your claim. That is why it's important that you hire the right California slip and fall accident attorney to handle your case. You need someone who can protect your rights and defend you from those who underestimate you.
There are several discords that the property owner can cook up to hold you partially or completely liable for your accident. Here are some of the few:
Your attention was on something else, such as texting on your phone and not on where you are going
The area has cordons to keep people away from the dangerous situation
You're wearing an inappropriate footwear
You entered a property or premises without permission or where no people should enter
It should be obvious to you how dangerous the condition was
Whatever the particular disagreement the property owner fabricates, there is a likelihood that your hired fall accident attorney will bring your case to court. California's "pure comparative negligence rule" will identify how much compensation you can still get from the property owner.
According to this rule, the court will mitigate any compensation that a victim who is partially at fault. For example, if the compensation you must receive is $100,000 but your participation in your accident is 20%, the award you will now receive is reduced to $80,000.
Damages You May Recover in a Slip and Fall Accident
Whether you are the sole liable party or are partly to blame, you can recover damages. It includes:
Medical Treatment. In every injury a victim suffers, there is a corresponding medical treatment. It involves the cost of hospitalization, doctor's visits, therapy, and future medical treatment or surgery.
Wages. If you suffer serious injuries, you need to stay at home or in the hospital to regain your health and strength. It means that you have to miss work and paychecks, of course.
Property Loss. Apart from the injuries, you might also carry things that broke, such as a phone, watch, laptop, or eyeglasses. It could also be foods in jars that shattered when you slipped and fell while buying or after doing your grocery.
Emotional Agony. This is an award given to the victim for the injury's non-physical aftermath. It may include trepidation, apprehension, post-traumatic stress disorder (PTSD), or other mental conditions that resulted from an injury or trauma.
Punitive Damages. There are situations wherein the court finds the defendant's behavior atrocious, deliberate, or intentional. It is sometimes called "exemplary" damages, intended to punish a defendant for his abominable behavior.
However, the court considers three factors before awarding punitive damages to a victim: These are:
The egregiousness of the liable party's conduct
Value of compensatory damages awarded or actual harm the plaintiff endured
The defendant's financial situation
California Slip and Fall Statute of Limitations
It's crucial to file your claim within the period specified by the law, which is two years from the date you suffer harm or injuries based on negligence. However, there's an exception when filing a claim against a government body. This is known as an administrative claim.
When filing an administrative claim, you need to do it within six months. The government should answer back in 45 days. When your claim is denied, you can file a lawsuit within six months from the date of your claim's denial.
Need Help with Your Accident Claim? LA Injury Group Can Help
LA Injury has been providing the most inclusive help in terms of personal injury cases since 2005. Our compassionate, hardworking, and experienced accident attorneys are always ready to help you. We ensure that you'll get the compensation you deserve and defend you from insurance companies that will dispute your claim.
Dial  (818) 240-1800 or email us for any inquiries related to your case. We work on a contingency fee basis. Call us today and schedule a free evaluation of your case.