Whether your traumatic brain injury is due to a road accident, tripping, or falling, the harm, loss, and damage you sustain can have a destructive lasting impact on you and your family. As an injured victim, you have so much to worry about, especially your present and future financial status brought about by costly medical care and loss of income. You don't have to carry the burden yourself or your family. LA Injury Group is always ready to help, especially those in dire need. Our efficient traumatic Los Angeles brain injury attorneys will fight for and protect your rights against the insurance company that will delay, undervalue, or even deny your claim. Contact us at (818) 240-1800 and book a free consultation of your case.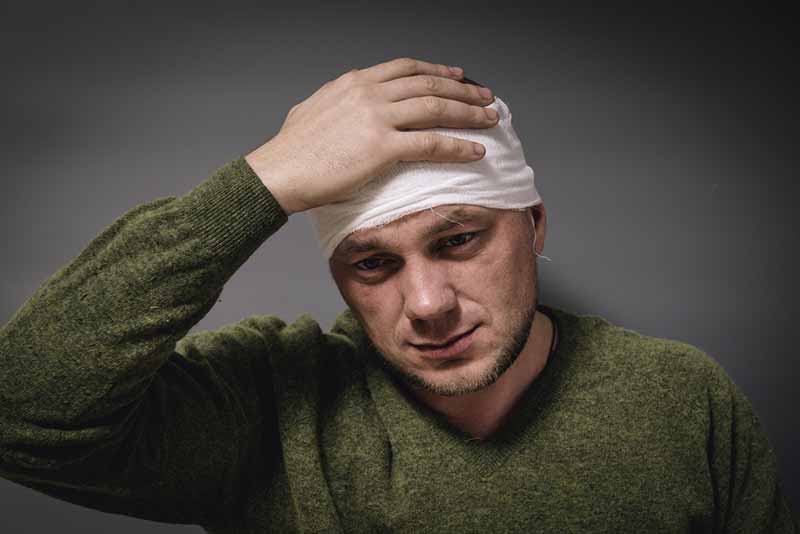 Traumatic Los Angeles Brain Injury Attorneys: Understanding Traumatic Brain Injury
Traumatic brain injury (TBI) occurs due to damaging blows or jolts, and puncturing of the skull. It may briefly or lastingly impair the brain's normal function. Symptoms of this type of brain injury include:
Nausea
Headache
Dizziness
Light sensitivity
Sleeping difficulty
Mood swings
It's worth noting that TBI doesn't always effectuate evident impairment. Prognostics can happen following the injury or in the succeeding days. Even if you feel okay, it's crucial to consult a doctor.
The most common causes of traumatic brain injury include falls, sports injuries, assaults, and vehicle accidents. Usually, it happens because of another person's negligence. Seeking the help of our expert Los Angeles brain injury lawyers ensures that you're not alone in your battle with the insurance company.
Establishing Liability in a Traumatic Brain Injury Case
Before you can recover damages, you need to first establish liability in your case. Doing so can be daunting because of the complicated processes involved. Primarily, you need to prove that your injury is due to someone else's negligence and that the defendant failed to act in a sensible manner. Moreover, you need to show that his or her failure to do so resulted in harm and injury.
As a plaintiff, there are four steps you need to establish liability and prove the defendant's negligence. These are:
Duty of Care. All people have a duty of care owed to other people. With regard to driving, it means you should follow traffic rules, reduce speed, especially during rain or snow, and focus on driving.
Breach of Duty of Care. You must demonstrate that the liable party failed to act based on the standard of care. Examples are driving while under the influence of alcohol or illegal drugs, and failure to warn someone about a property's hazardous condition to name a few.
Causation. You need to show how the defendant caused your accident and injury. For example, if you sustain TBI in a vehicular accident, you have to prove that the other driver caused the crash.
Damages. You should show as well that you have financial damages emanating from the incident that caused you harm. It could include lost income, medical expenses, and rehabilitative expenditures.
Working with LA Injury Group's well-versed Los Angeles traumatic brain injury legal representative will help lift your financial burden. We can help you identify the liable party and prove the defendant's negligence. Likewise, we can maximize the compensation you deserve and ensure that you're going to get it.    
What Types of Damages Can You Recover?
After establishing the defendant's liability, you can recover damages for your loss and injury. It can include:
Medical Bills. These are expenses incurred during the phase of your medical treatment. It may include hospitalization, doctor's fee, laboratory fees, surgery costs, rehabilitation costs, and therapy expenses.
Future Medical Bills. These are bills incurred for any necessary future medical care related to your TBI. If your injury is serious enough, you may require a life care plan to estimate the cost of care for the rest of your life.
Loss of Earnings. When you suffer from TBI, it's possible that you'll have to take some time off from work to recover your health. It's also likely that you can't return to your work because of permanent disability.
Pain and Suffering. It also includes mental anguish, agitation, and inconvenience (past and future) because of sustained brain injury.
Loss of Consortium. Your family can claim this damage on your behalf due to loss of care, companionship, guidance, domestic service, moral support, sexual relations, and more.
Burial and Funeral Expenses. In case TBI resulted in wrongful death, the surviving family can file a wrongful death claim and get these damages.
Statute of Limitations for Filing a Traumatic Brain Injury Claim in California
According to state law, you have two years to file a claim against the defendant from the date of the incident. Filing beyond the specified date loses your right to compensation. To ensure that you won't be late in filing, work with our skilled Los Angeles traumatic brain injury lawyer.
How a Los Angeles Traumatic Brain Injury Can Help with Your Case?
Our knowledgeable traumatic brain injury lawyers can help you gather the necessary documents to present when you file a claim. We can identify the liable party and if there are other parties responsible for your injury. 
Also, we can negotiate with the insurance company on your behalf. Most of all, we can represent you in court if the insurance company won't pay the amount you deserve. Don't hesitate to work with a traumatic brain injury lawyer to protect your rights and defend you from the insurance company. 
Get the Widest Legal Representation from the LA Injury Group
We started opening our doors to those in need since 2005. Our expertise has helped several people get justice and obtain the compensation they deserve. We can do the same thing for you.
Suffering from a traumatic brain injury is a devastating experience not only for you but for the whole family as well. We understand what you're going through and we're willing to help.
Call us today at (818) 240-1800 to schedule a free evaluation of your case. We work on a contingency fee basis. No lawyer's fee unless we settle a verdict for you.