Negligence is the most likely reason for the occurrences of several accidents whether at home, in the workplace, or out of the streets. The negligent party or the defendant may owe you monetary compensation for your economic and non-economic damages as well as losses. Filing a case is a complicated matter and LA Injury Group is always here to help and protect your legal rights. Our expert Los Angeles spinal cord injury attorneys will maximize your compensation and identify if there are other parties responsible for your misfortune. They will also need to recompense you for the harm and injury they caused you.
A majority of spinal cord injuries impose a lifetime and irreparable detriment to the victim, such as paralysis or permanent disability. If you or your loved one sustains spinal cord injury, especially when it's due to the negligence of other people, you are eligible to file a claim against the responsible party or parties.
Don't hesitate to call us at (818) 240-1800 for help. We'll evaluate your case at no charge. We work on a contingency fee basis.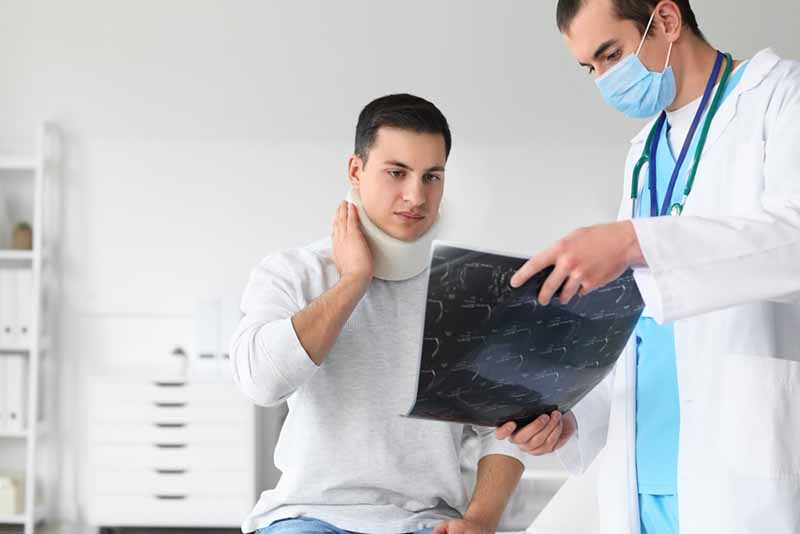 Los Angeles Spinal Cord Injury Attorneys: What is Spinal Cord Injury?
Spinal cord injury or SCI is an affliction to the tight clump of cells and nerves that transmit and receive signals from the brain to and from the rest of the body. The spine itself may have received a direct injury or its tissues and bones became damaged.
This may result in either temporary or lasting changes in sensation, strength, movement, and body functions beneath the point of affliction. In some cases, slight injuries to the spinal cord or if there is no cell death, a patient may recover completely.
What are the Most Common Causes of Spinal Cord Injuries?
The spinal cord consists of nerves, vertebrae, and spinal disks. When any of these major parts suffer damage, the victim could endure lasting effects. Severe injuries can impede sensation and motor function below the point of the affected area. No matter how severe or minor your spinal cord injury is, it causes chronic pain, temporary disabilities, and lost earnings.
Here are some of the most common reasons for the occurrence of spinal cord injury.
Slip and fall accidents. Spinal cord injuries due to a slip and fall accident are common among older people. Almost 75% of these injury cases happen among those who are 76 years old and older. They usually require longer periods to recover, which means longer stays in the hospital and higher medical costs.
Car Accidents. It can result in sudden rupture or crack to the spinal cord or the shrouding tissues, which also include the vertebrae, disks, and ligaments. This injury can pound tissues or break the vertebrae.
Acts of violence. Based on the National Spinal Cord Injury Statistical Center's data, acts of violence account for approximately 14% of spinal cord injuries in the United States.
Illness or disease. The spinal cord can have disorders that can cause damage and deterioration. Such conditions include tumors, abscesses, herniated discs, hematoma, and generative disc disease to name a few.
Medical malpractice. This negligence occurs when healthcare providers fail to properly diagnose the patient's true medical condition. Another is when the surgeon made an error while performing surgery on a patient.
Common Symptoms of Spinal Cord Injury
After an accident, you may feel the symptoms of a spinal cord injury in a few days or even weeks. Some of the most common symptoms you need to watch out for include:
Numbness
Weakness
Difficulty Breathing
Lack of Coordination
Loss of Bowel or Bladder Control
Tingling
Paralysis
Pain
Damages and Qualification
Did you or a loved one suffer spinal cord injury because of another person's negligent or deliberate action? In a case like this, you may be eligible to file for compensation. LA Injury Group's experienced Los Angeles spinal cord injury lawyers can handle your case and identify your eligibility to file for compensation.
Filing for a claim allows you to recover damages and replace lost salaries (including future), medical expenses, pain and suffering, and other overheads. If the court finds that the defendant intended to harm you, you'll get punitive damages that will come from the liable party's own pocket. This serves as a punishment and a discouragement for anyone who might have plans of harming other people or even killing them.
Establishing Accountability
LA Injury Group's 17 years of expertise in the field of tort law allows our well-versed Los Angeles spinal cord injury attorney to identify liable parties and establish accountability. We have the capability and sources to establish a strong case against the defendant(s).
Your Rights as a Victim of Someone Else's Negligence
When you are permanently injured due to the recklessness of another person, you have a legal right to monetary compensation for damages. However, there are several hurdles that you must go through before you can get the compensation you deserve.
One is the statute of limitations that you need to take seriously. When you fail to file a claim within the specified period, you'll lose your right to get compensation. That's why it's important that you seek legal help at the time of the accident because the clock starts ticking after your injury. 
Working with our reputable Los Angeles spinal cord injury lawyers ensure that your case is in good hands. We'll help you file your claim as early as possible so you can receive your compensation earlier than expected. The statute of limitations for filing a personal injury claim in California is two years from the date of injury. 
Consult Your Spinal Cord Injury Case with LA Injury Group
When you have a serious injury claim, you deserve nothing but the best Los Angeles spinal cord injury lawyer to handle your case. We provide the most comprehensive help in terms of personal injury cases. 
You're already suffering from the pain due because of other people's negligence, you don't have to suffer more because of towering medical bills, loss of earnings and impairment to name a few. Someone needs to pay for his or her negligence and compensate you for their negligent or deliberate actions.
LA Injury Group will fight for your rights and defend you from the insurance company which will try to challenge your claim so they won't have to pay you. Call us today at (818) 240-1800 for a free case evaluation. We work on a contingency fee basis and will only get paid once we settle a verdict for you.