Californian residents and commercial property owners are responsible for providing visitors and other people with safe surroundings. Slip and fall injuries are common and victims are left with just a few choices. Slip and falls can result in more than just a bump, bruise, and even embarrassment. If you or a loved one experienced this unfortunate circumstance, you may want to speak with an efficient slip and fall accident attorney in LA. 
Injuries can happen anywhere in any premises such as:
Parking lots

Restaurants

Shopping malls

Residential areas

Workplace inside buildings that have torn carpeting, steep or badly-maintained stairs, or poor lighting
Both business and residential owners have the responsibility to maintain the premises with the safety of other people in mind. They could also warn the public of any possible danger, especially if there is an ongoing repair or maintenance on the premises.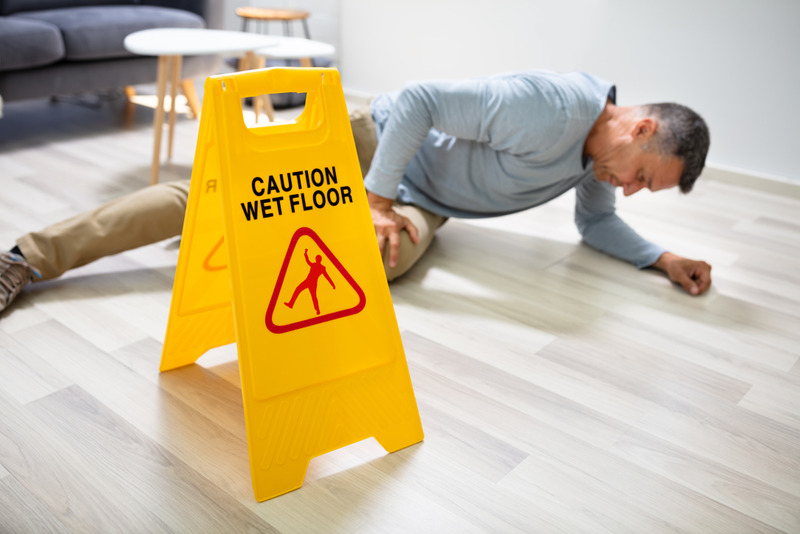 Some Main Causes of Slip and Fall Injuries
A slip or fall can result in serious injuries which include fractures, wounds, contusion, or even disability. Minor or severe falls are the main cause of non-fatal injuries. The U.S. Centers for Disease Control and Prevention (CDC) noted that 9 million people suffer some type of fall injury every year. If you sustained injury due to a slip and fall accident, you'll need an efficient slip and fall accident attorney in LA to handle your case.
Below are some of the main causes of slip and fall injuries:
Slippery Wet Floor
Every business establishment and the workplace has a duty to keep their customers and employees safe. California has mandated laws that protect consumers from reckless business managers who don't clean up their stores and properties regularly. 
However, it's not enough that they clean the floors. They also need to make sure that no one will slip and fall aside from putting signage of, "CAUTION: Wet Floor." If you slipped and fell due to a wet and slippery floor, and you think that the management lacks appropriate measures to prevent any accident, you can consult an efficient slip and fall accident attorney in LA to what damage you can recover.
Misstopping on Lopsided or Cracked Pavement or Floors
Los Angeles has almost 4,500 miles of sidewalk that require repair. The law requires sidewalk property owners (whether owned by the state or private individual) to maintain their sidewalk or premises. Otherwise, they will face the disadvantage of a trip and fall lawsuit. 
Property owner liabilities differ based on the guidelines and principles elected in the confines where the injury happened. An efficient slip and fall accident attorney in LA can evaluate the validity of your claim. Likewise, he plays a big part in helping you recover damages for medical bills, lost wages, and pain and suffering. Usual damages may include back injuries, neck injuries, fractures or broken bones, and more.  
Dropping into Potholes
Potholes can be found in private parking lots, paths, and driveways. However, these pockets are mostly found on sidewalks and public streets. If you feel and sustained injuries after stumbling or dropping into a pothole, you have the right to recover damages. 
Other causes of slip and fall accidents include:
Food debris

Faulty staircases or ladders

Spilled drinks or liquids

Grease or oil spills

Ice or snow
Relatively, injured victims are generally protected by premises liability law. It's a lawsuit that holds the property owner liable for any damages that resulted in injury to an individual or entity's property. However, proving that the property owner was negligent can be at times difficult. 
Seeking the help of an efficient slip and fall accident attorney in LA is a big factor in your successful claim. He can help prove if the owner has knowledge of the risky condition and neglect to rectify it, so you won't have to sustain injury. 
Moreover, there are other factors involved in such claims. It includes whether you had the invitation to come to the property. It's significant to act immediately in order to gather all necessary evidence to strengthen your claim. 
Searching for an Efficient Slip and Fall Accident Attorney in LA
Slip and fall cases are difficult cases to hold. Not all law firms would like to handle such one because of its complexity. However, you can still find some that will focus on your case and make it successful. 
Our team of slip and accident attorneys at LA Injury Group is not only efficient. They are also adequately trained to understand what kinds of paperwork and if there's a need for rational investigations. 
We work hard for the best interest of our clients. Our aim is to help them get the compensation they truly deserve. We are just one call away. You can reach us at (818) 240-1800. Let's talk about your case at no obligation.