Everyone is going to have a different opinion about what constitutes the "best personal injury lawyer in LA." There are a million different kinds of rankings out there: Yelp, some kinds of social media, and so many others. Typically, the ranking systems for lawyers are fairly simple: we get high rankings if we can get our clients the compensation they deserve. In the end, that's often the "be all end all" of lawyer rankings. So, with that in mind, we have an extremely high success rate. For many years, we've helped our clients to get everything that they deserve in terms of compensation for their injuries.
What Makes the Best Personal Injury Lawyer in LA
While voting for the best personal injury attorney in Los Angeles is subjective, what isn't subjective is our work ethic. Our law firm will do everything it can for you. We work nights, weekends, whenever all with the expressed goal of making sure that you get everything that you deserve. We can't comment on what other law firms do, we only know how hard we work for the people who walk through our door. When you come in here, we treat you as a member of our family: someone valued, who deserves to be heard and helped in any way possible.
What we have seen over the years is that other law firms say that they'll help clients in this way, but they really don't. It's not that they set out to do wrong by their clients, it's that they'll cut corners. Sometimes, they'll just go through the motions. That's one thing we'll never do. Every case is important to us because it's someone's life. A personal injury is the kind of thing that overturns not just one life, but several. We treat your case as the awesome responsibility that it is.
Personal Injury Attorneys Who Do What They Can
When we say "cut corners," one way we've noticed that other law firms will do that is that they don't keep in as close of communication with their clients as they could. This is particularly true when they're negotiating with the other side. For example, when your attorneys start negotiating with the insurance company, the insurance company will often throw out a deal at the very beginning of negotiations. Sometimes, it's meant to intimidate or antagonize. Sometimes, it's a serious start to a negotiation and sometimes, it's meant to give the lawyers a way out of the case quickly if they want it.
So, we've seen other law firms just take that first deal from the insurance company without talking to their clients. They don't negotiate or argue, they just accept… and then they'll go back to their clients and say: "hey, that was all we could get for you. We fought really hard, but this is the best you were going to do." Not every personal injury case is going to shower the injured party with riches, but when an injured party reaches out to a personal injury attorney, they deserve better than that. They deserve to have someone who's actually going to negotiate on their behalf.
That's where we come in. We'll negotiate on your behalf as hard as we can to get you what you want. Most personal injury cases don't make it to trial and they don't see the inside of a courtroom. They end at the negotiating table. That being said, of course many personal injury cases do go to a courtroom. That's why you need attorneys who are as good in court as they are at the negotiating table. We have an extremely high track record of success at both.
Law Firm That's Always in Touch
It's important to point out here that we always make sure to keep in communication with our clients. We genuinely like talking to our clients, we treat them as friends. Seeing our clients heal and get the compensation they deserve for everything they've been through is the most rewarding part of this business. So, as the case progresses, we'll be keeping in touch. Moreover, we'll be keeping in touch to see how you're recovering from your injury, too.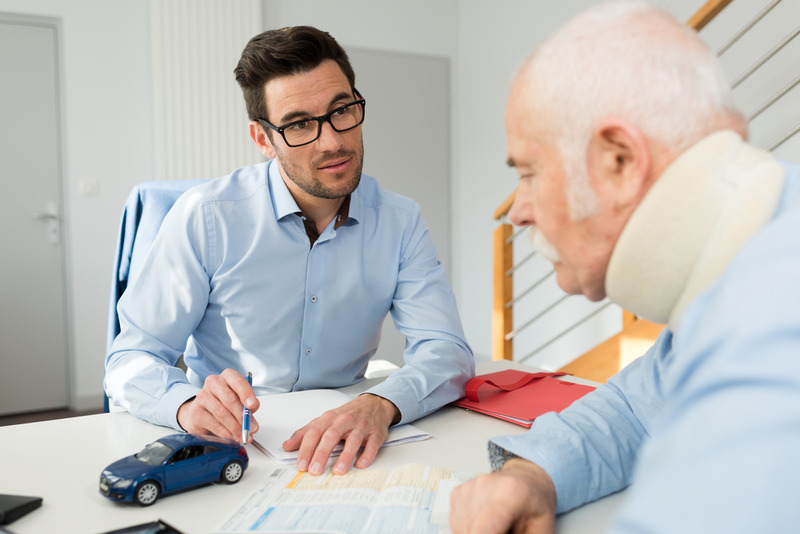 That being said, when we contact our clients, we aren't just checking up on their health (even though we are absolutely doing that). We're also letting them know how the case is going. We do this with a clear, objective eye. When you've seen as many personal injury cases as we have, you have a pretty clear idea of how things are going. So, when the other side makes an offer, you'll know about it. You'll not only be told what the offer is, but also whether we think it's a good one or not. We don't move on that kind of thing without our clients letting us know how they feel. When our clients are informed, they can make better decisions for their lives going forward.
What makes us so good in court or at the table is our experience. We've been doing this for a long time. Often, when people come into our law firm, they don't realize how long we've been helping people get compensation in personal injury cases. So, that experience can become an enormous asset in your case. Hiring a personal injury attorney who isn't very familiar or lacks experience can be an enormous gamble. Worse still, it's a gamble you're taking with your life and your health. There are people who count on you financially. This makes it all the more logical to go with a firm who's been around.
Beyond handling your case, we can offer advice, too. Many people, when they're going through the personal injury case process for the first time, don't realize everything that the insurance company might try to do to get them to receive less money than they deserve for their case. We can be there to act as a buffer so that you don't have to worry about the insurance company. With the LA Injury Group by your side, you'll have fewer worries about the insurance company finding some small way to ensure that your compensation is lessened.
LA Injury Group on Insurance Companies
Many of the insurance companies' tactics have been well documented in these blogs. They include: calling you right after you've been in the injury, offering you a very low ball number as quickly as possible in hopes you'll take it, and delaying things as much as possible in hopes that you'll give up. Those are just a few of the tactics they might try. Here's a link to the laws and regulations around insurance companies in California. You'll notice that in these documents there are no laws that would preclude insurance companies from doing all of that and more.
When you suffered some kind of personal injury that wasn't your fault, the last thing you need is more stuff to worry about. Let us take care of the insurance company for you. Instead of having to deal with their pestering and their tactics, let us provide that space so that you can focus on the most important thing: your health. A personal injury case isn't just about you getting all the money you deserve (although that's a significant part of it) it's about the injured party recovering as much as they possibly can.
Those are just a few of the reasons that people have been turning to our personal injury law firm for an extended period of time. Obviously, it's not easy reaching out once you've been injured. Being hurt, going to the hospital, having to recover – having to contact lawyers can just seem like insults to follow injury. To make things easier on you, we've made it so that the initial consultations are free. All you have to do is give us a call at (818) 240-1800 or head to our website. When you're ready to talk, we're ready to listen and figure out a way to move forward with your case.