Construction sites are high-risk places to work for. In California, construction is the second most hazardous occupation. As a matter of fact, this job recorded 71 deaths in 2017. The job is more physical and requires construction workers to utilize powerful machinery. They also need to climb to greater elevations. Due to the nature of work, they face a critical risk of injuries in the workplace. If an accident happens, seek the help of a construction workers' injury attorney. You may need someone dependable to help you file a compensation claim. The compensation will cover your financial concerns for medical bills and lost wages.
Construction Workers' Injury Attorney: Most Common Types of Construction Site Injuries
Construction workers deal with a lot of risks at the construction sites. Below are some of the most common types of injuries occurring in construction sites:
Crumbling Trench
A crumbling trench is a grave threat to construction workers. It can cut off the oxygen supply, bury the workers alive. Also, they can sustain serious injuries. 
Electrocution/Electrical Burns
Construction workers are also prone to electrocution as they work with electrical tools.  This includes generators, machinery, electrical wiring, and power tools. It puts their lives at risk of suffering electric burns as well.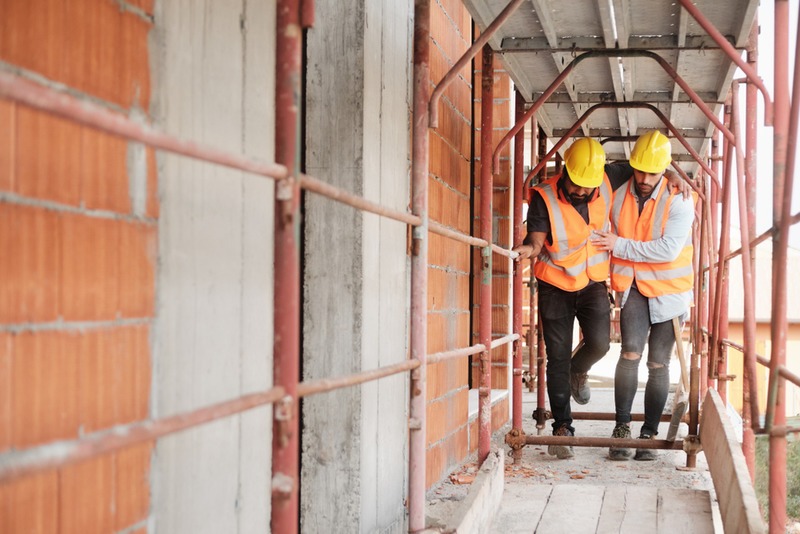 Routine Locomotion Injuries
Tasks that are routine can cause muscles and tissues to wear out. Damaged muscles and tissues limit movement and cause excruciating pain. 
Disregarding Proper Use of Preventive Gear
Wearing the proper gear must be strictly implemented. This includes wearing safety goggles, hardhats, and other appropriate gear to avoid suffering injuries. Remember that prevention is better than cure. 
Falling from Elevated Structures
A construction worker might fall from elevated structures such as tall buildings and scaffoldings. There are also instances that workers fall into ditches or holes on the sites. 
Damaged Scaffolding
The use of scaffolding requires safety and durability according to OSHA's strict rules. However, things can still go wrong and accidents happen causing severe injuries or even death. 
Lawful Resolutions for Injured Construction Workers
You or a loved one may sustain an injury while working at a construction site. If this happens, you have to expect a prolonged recovery. Do not forget the pile of medical bills that you need to pay. It makes a huge difference when you have an expert construction workers' injury attorney to represent you.
Luckily, you can receive reimbursement for your injuries. You can file for workers' compensation to cover the damages you sustained. Seek the help of a construction workers' injury attorney to make filing easier. 
Filing for Workers' Compensation Lawsuit in California
The workers' compensation is the last resort of an injured worker or employee. It is a sort of insurance that offers privileges to injured employees. All companies or employers in California who have one or more employees need to have workers' compensation insurance. Under the law, the following benefits are available to injured construction workers:
Medical Expenses
Medical expenses include visits to the doctor, physical recuperation, and medications to name a few. This must include the fares from coming to and fro to the clinic or hospital.
Temporary Disability Support
This grants you financial support if you cannot do your routine activity while recovering. It comes in two categories, temporary total disability or TTD and temporary partial disability or TPD.
Temporary total disability is disbursement if you cannot work completely while recovering.  Temporary partial disability, on the other hand, is also a payment if you cannot go back to work while recovering. The difference is that the pay is for the limited hours or duties you can do at a lower rate.  
Permanent Disability Support
The permanent disability support eligible you if you have not completely recovered from your work-related injury. It also applies if your illness or condition has stabilized but no complete recovery is evident.  
Permanent disability support starts with your physician's "permanent and stationary" report. Following that report is a rating associated with a finite amount of money. This cash will compensate for your reduced earning capability. The insurance company will keep paying for acceptable medical care during this period.
Supplemental Job Displacement Support
This benefit comes in the form of a voucher for paying retraining or skill development. In this situation, your employer would not offer you work and you will not return to work either.
Death Support
Beneficiaries of a deceased construction worker can receive death support. This includes weekly monetary compensation and cash for funeral overheads. Speak with an expert construction workers' injury attorney to assist you in filing a claim. 
Consult a Construction Workers' Injury Attorney
Most often than not, insurance companies deny workers compensation claims for construction workers. Additionally, they usually present a low-ball offer with high hopes that injured victims will accept it without thinking twice.  If you think you are not getting the right amount of settlement, a construction workers' injury attorney is your best bet.
At LA Injury Group, our team of construction workers' injury attorney is always ready to help. Having a legal representation makes a big difference in your claim. Insurance adjusters will not take advantage of you because you have an experienced attorney by your side.
Call us today for a free case evaluation. Dial (877) 678-4689 and let us discuss your concern.